Why Unhappiness, Depression, Suicide Rates Peak at 45 Years of Age
It appears that the mid-life crisis has more profound, concerning and widespread impacts than we thought. It may be built into our genes, rather than be due to changing circumstances and our failure to cope with getting old.
Perhaps surprisingly, the mid-40's is the peak time for unhappiness, highest depression rates and highest suicide rates. Even the great apes share the same pattern for peak unhappiness in middle age and so it may be linked to our biology and hormone changes as we get old.
Teenagers, the mid-20's and mid-30's groups, and older folk ( >60 years) are relatively much happier. Many people assume that the troubled teenage years is the peak age for depression and suicide, but the risks are far higher for the mid-40's group, which should be in the prime times of their lives, with all their troubles about careers, finances, relationships and health issues well taken care of.
Why does this occur?
This article presents data on happiness, depression rates for various age groups to confirm these findings. It also reviews some of the reasons why this may occur.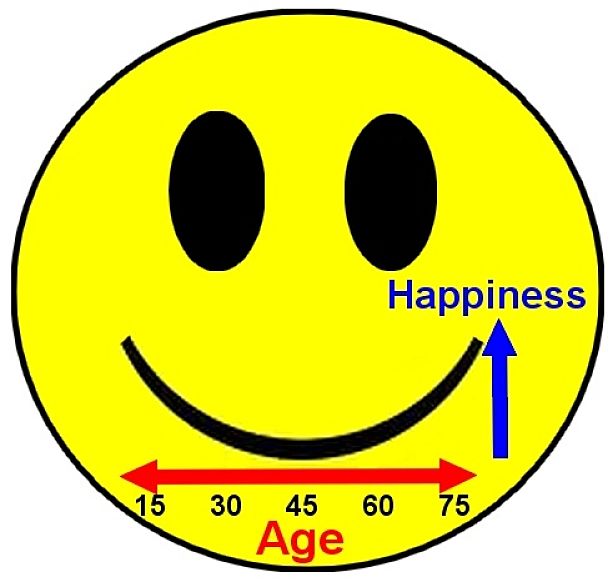 Most people assume that as children we have a trouble free existence. As teenagers many of us struggle with all sorts of miserable confusion, and self doubt and hormone triggered mood swings. Then when people enter middle age everything is resolved, and everyone should be happy and contented, enjoying families, with warm established and fulfilling relationships and financial security. But, this is completely wrong. As the graphs show the middle age years, the mid-40's, are for many people the worst time of their lives. At around 45 years of age the unhappiness, depression and suicide rates all reach their maximum levels. This is when the risk of being unhappy peaks leading to increased depression and suicide. This pattern is very alarming and not well known. Because of this, the support offered for middle age people suffering high depression rates is often neglected.

The U-shaped trend of happiness over the life span (lowest in middle age, and higher for youth and senior citizen age groups) has been demonstrated all around the world and appears to be universal and biologically driven. Research studies have confirmed the pattern in more than 70 countries, both developing and developed countries, with surveys of more than 500,000.
The type of questions asked were:
'On the whole, are you very satisfied, fairly satisfied, not very satisfied, or not at
all satisfied with the life you lead?'
'Taken all together, how would you say things are these days – would you say that you are very happy, pretty happy, or not too happy?'


There are some interesting patterns in the data:
The U-shape happiness pattern, which cynically resembles a smile, applies worldwide, but the age at which happiness is lowest differs between countries (see table; Countries not shown don't have a single minimum).
Happiness hits rock bottom at 40 years in USA, 48 years in UK; 40 years in Australia; 62 years in France; 47 years in Germany; 46.5 years in China; 50 years in Japan; 51 years in Italy.
The lowest age at which the minimum occurs is Switzerland 35 years and the highest is Ukraine at 62 years.
US citizens have generally become less happy with each passing decade since 1900. In Europe, happiness rates showed a declining trend until about 1950, but then started to increase at a slow but steady rate ever since
Women show minimum happiness at about 40 years on average. For males it's about 53 years
Age for Minimum Life Satisfaction (Happiness) in Various Countries
| Country | Age for Lowest Life Satisfaction | Country | Age for Lowest Life Satisfaction |
| --- | --- | --- | --- |
| All Countries | 46.1 | Korea | 40 |
| Albania | 40 | Kyrgyzstan | 47.7 |
| Argentina | 49.3 | Latvia | 51 |
| Australia | 40.2 | Lithuania | 50.4 |
| Azerbaijan | 45.8 | Macedonia | 49.8 |
| Belarus | 52.6 | Malta | 49.9 |
| Belgium | 52.2 | Mexico | 41.4 |
| Bosnia | 55.6 | Netherlands | 54.6 |
| Brazil | 36.6 | Nigeria | 42.4 |
| Bulgaria | 53.4 | Norway | 43.9 |
| Canada | 54 | Peru | 39.5 |
| China | 46.5 | Philippines | 40.4 |
| Croatia | 48.1 | Poland | 50.2 |
| Czech Republic | 47.2 | Puerto Rico | 35.6 |
| Denmark | 46.1 | Romania | 51.2 |
| El Salvador | 47.8 | Russia | 55.3 |
| Estonia | 45.1 | Serbia | 49 |
| Finland | 44.9 | Slovakia | 46 |
| France | 61.9 | South Africa | 41.8 |
| Germany | 47.5 | Spain | 50.2 |
| Great Britain | 48.1 | Sweden | 49 |
| Hungary | 52.3 | Switzerland | 35.2 |
| Iceland | 49.3 | Tanzania | 46.2 |
| Iraq | 51.7 | Turkey | 45 |
| Ireland | 50.3 | Ukraine | 62.1 |
| Israel | 58.3 | Uruguay | 53.1 |
| Italy | 50.7 | USA | 40.1 |
| Japan | 49.8 | Zimbabwe | 42.9 |
What is the Explanation for These Findings?
It is sad but true that there is no definitive answer. No one has been able to really prove what causes the high depression rates and low happiness rates in middle age. But there has been some speculation:
One possibility is the inability to cope with changes that are inherent in the classic concept of the midlife crisis when individuals have achieved their aspirations, or perhaps accept that their longterm aspirations are no longer achievable. Perhaps its triggered by a switching off or completion of the things that have driven them during their 20's and 30's as they face the reality of growing old.
Children become more independent as they grow older and this may trigger a form of empty nest syndrome or a sense that their hands-on input is no longer needed. But research has shown that the pattern occurs for people who don't have children.
Could it be related to economics, job security or other financial stresses? Again this does not appear to be the case as the pattern remains after demographic factors are taken into accounts, such as marital status, education, employment status, and income.
Recent research has shown that happiness the great apes - also follows a U-shape pattern throughout life. This suggests that it may be related to fundamental biology, perhaps to hormonal changes with growing old. It could also be related to changes in the brain. For example the frontal lobes continue to develop well into the mid-20s, but start to decline in the mid-40s. This loss of frontal-lobe function may be a cause. Some researchers have argued that this loss of frontal lobe function and various social changes may affect our ability to discount and dismiss bad news. The ability to cope with bad news and prevent it from overwhelming us has been shown to be related to depression.
Changes in our ability to cope with health issues, relationships and other circumstances could be a contributing factor for increases in depression in middle age. Kids, teenagers and the elderly discount unwanted information much better than middle age individuals.
A Japanese study showed that health status was a significant risk causing depression in both women and men. Having chronic diseases increased the likelihood of depression in men, whereas poor perceived health associated with being overweight increased the likelihood of depression in women. Having a BMI greater than 25 increased the risk of depression in women. Gender differences need to be taken into account.
Research shows that one major trigger for unhappiness lies in comparing ourselves to others. Many 'older females' suffer from anxiety and depression because they are simultaneously overloaded and undervalued. This may arise because of imbalance between the demands of home and career, empty nest syndrome, feelings of biological redundancy and separation anxiety (older people slip drift beyond the 'in-crowd'). Society and advertising constantly tells us that the only face and body worth having is a young face and body. Changes in hormones are probably involved. So, middle-age women with hormones changing, feel low, stressed and anxious. Life may not be what we expected and dreamt it might be, and it's too late to turn dream into reality.
Financial stresses are undoubtedly a factor for many people. The median age at which bankruptcies are filed is from 36.5 to 43.0 years. Also job security has changed with less long-term employment and more short-term employment even for people over 30 years of age.
Increased incidences of chronic diseases, perhaps associated with being over-weight or obese, is another factor. A recent report showed that the proportion of people aged 45–64 years, with multiple chronic diseases rose from 13% in 1996 to 22% in 2005.burden of chronic illness in middle age.
Conclusion
While there has been a lot of speculation about the causes of depression in middle age, there is a clear need for better research to provide real and proven reasons and answers.
There is also a clear need for society to recognise that people in their 40's are at greatest risk.
One of the greatest challenges is recognises gender differences in depression. The different symptoms in men and women can cause a lack of understanding and poor diagnosis. The table below summarizes some the gender differences.
Gender Differences in Depression Symptoms
| Symptoms in men | Symptoms in women |
| --- | --- |
| Anger, irritability, ego inflation | Feels sad, apathetic, worthless |
| Becomes controlling | Difficulty maintaining boundaries |
| Becomes over status-conscious | Assumes low status |
| Blames others | Tendency to self-blame |
| Compulsiveness | Procrastination |
| Creates conflict | Avoids conflict |
| Fear of failure | Problems with success |
| Feels suspicious, guarded | Feels anxious, frightened |
| Over use of internet/TV/email | Withdrawal |
| Restlessness and agitation | Slows down, nervousness |
| Self-medicates through alcohol | Self-medicates through food |
| Shame | Guilt |
| Sleeps too little | Sleeps to much |
Helping Men Overcome Depression
Because men often deny the symptoms and don't seek help they can be more difficult to treat. Some tips are:
Getting men to recognizing their problems, to admit to being depressed and to seek help is the important first step.
Depressed men tend to have unhealthy eating habits and this makes things worse.
Researchers have shown that 20 minutes of brisk walking or other exercising every day is better than antidepressants.
Depressed men usually bypass and disconnect from their social support networks, including family and friends. Helping men to sustain and recreate these support networks is very important. Many depressed men never had any adequate social support network in the first place.
Related Articles
=> Positive Ageing Through Gardening - Role of Technology & Wearable Devices
=> Teenage Sleep Requirements, Lack of Sleep, Ensuring Teens Get Enough Sleep
=> Chronic Insomnia Causes, Cures, Treatment, Management and Remedies
=> How Much Sleep Do You Really Need - Age, Weekly Cycle and Personal Needs Guide