Lower Uric Acid, Prevent Gout Naturally Using a Low Purine Diet
Gout is a painful type of arthritis that has long been linked with overindulgence in alcohol, meat, offal and seafood. Gout symptoms can be alleviated with changes in diet that restrict the intake of foods that contain purines.
Your body produces uric acid naturally when it breaks down these purines, which occur in high concentrations in certain foods, such as offal meats, anchovies, some other fish such herring, and some vegetables such as asparagus and mushrooms.
Gout causes pain, generally in the toes and feet, when high levels of uric acid in the blood cause uric acid crystals to accumulate around a joint.
Changes in the diet to lower purine intake is not a complete treatment for gout, but it can help other remedies involving drugs and exercise. Being overweight and unfit are also risk factors for gout.
Adopting a healthy diet and improved lifestyle with lower alcohol consumption and regular exercise may also help control gout.

This article provides charts of the purine content of various foods to identify the high purine foods you should avoid and low purine foods you can use as replacements. It also provides tips for general diet changes that help provide a natural remedy for gout.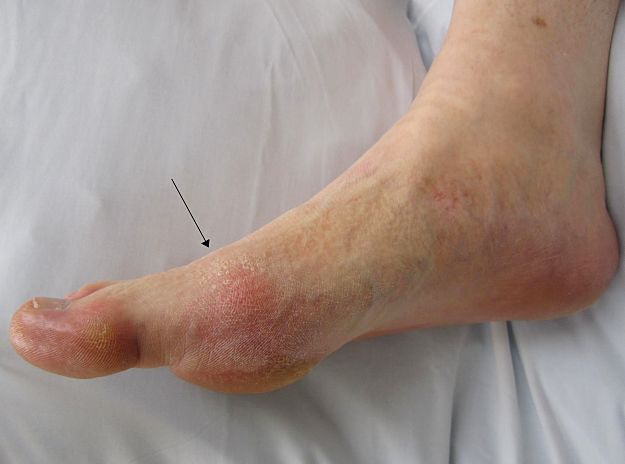 Low Purine Diet Guidelines for Gout Control
Purines consumed in food account for about 50 % of the uric acid produced in the body and so restricting foods high in purines may help restrict uric acid levels. However, not all purine-containing foods have the same reaction.
It is important to note that purines occur in high levels in many vegetables, but these purines don't cause the uric acid build-up from purines in meat, especially offal such as liver. Fresh fruits and vegetables can help to reduce lactic acids and they are also beneficial to increase the alkalinity in the blood.

The foods with highest purine levels linked to uric acid build-up are shown in the table below. Also shown are helpful guidelines about low purine diets.

The General guidelines are -
Restrict the amount of meat (especially organ meats and offal products), poultry and fish such as anchovies, herring and mackerel, and other seafood such as shrimp, lobster and scallops.
Reduce the amount of saturated fat, which interferes with the body's ability to get rid of uric acid. High-fat meals and many processed foods also contribute to excess weight, which is linked to the risk of gout.
Restrict or avoid alcohol, which is known to reduce the ability of the body to elimination of uric acid. Drinking beer and red wine has been linked to increased risk of gout.
Restrict foods sweetened with fructose corn syrup, which is the only sweetener known to increase uric acid.
Increase the amount of complex carbohydrates by eating more whole grains, vegetables and fruits. This helps reduce the risk of gout
Increase low-fat or fat-free dairy products in the diet as replacement for full-cream products.
Increase the amount of water consumed and other fluids. Liquids can help flush uric acid from the body.
Suggested Menu for a Low Purine Diet
Breakfast
Whole-wheat toast with low-calorie spread
1 serving of fresh fruit
Whole-grain, homemade cereal with low-fat milk
Freshly squeezed fruit juice
Coffee or Tea
Lunch
Lean meat, cheese or poultry sandwich on whole-wheat bread, with salad
Low-fat dip with celery or carrot sticks or side salad
Fresh fruit, such as stone-fruits, apple, pear or orange
Skim or low-fat milk
Evening Meal
Fresh fruit, such as berries or melon
Green salad with tomatoes, celery, rocket, cucumber and low-fat dressing
Baked potato with low-fat sour cream
Steamed or boiled vegetables
Baked or grilled chicken, lean meat grilled
One glass of wine.
Advice for Lowering Uric Acid
| Things to Do | Foods to Avoid | Foods to Eat |
| --- | --- | --- |
| Restrict meat / fish / poultry intake | Organ meats such as liver; kidney; heart | Fresh cherries; strawberries; blueberries and other red-blue berries |
| Avoid alcohol and processed foods | Selected fish and shellfish | Bananas |
| Lose weight if overweight | Meat and yeast extracts brewers and bakers yeast | Celery |
| Exercise regularly | Meat soups and stock cubes | Tomatoes |
| Drink 8-10 glasses of water a day | | Vegetables including cabbage and parsley |
| Eat plenty of fruits and vegetables | | Foods high in bromelain (pineapple) |
| | | Foods high in vitamin C (red cabbage; red bell peppers; tangerines; mandarins; oranges; potatoes) |
| | | Low-fat dairy products |
| | | Complex carbohydrates (breads; cereals) |
| | | Chocolate; cocoa |
| | | Coffee; tea |
Low Purine Diet Guide
| FOOD GROUP | LOW PURINE | MODERATE PURINE | HIGH PURINE |
| --- | --- | --- | --- |
| Purine Level | 0-50 mg purines/100 g | 50-150 mg purines/100 g | 150-825 mg purines/100 g |
| Recommended Use | USE AS DESIRED | USE IN MODERATION | AVOID |
| Breads and Cereals | breads and cereals; noodles; rice; corn bread | Limit to 2/3 cup raw daily - Oatmeal; Limit to 1/4 cup raw daily - wheat bran; wheat germ | |
| Fruit | All including juices | | |
| Vegetables | Most vegetables | Limit to 1/2 cup serving daily - asparagus; cauliflower; spinach; green peas; mushrooms | |
| Protein Foods - Choose lean meats; poultry without the skin; and fish. Cook without added fat. | eggs; nuts; peanut butter | Limit of 1-2 servings daily for: meat; poultry (2-3 oz); fish; shellfish (2-3 oz); dried peas; beans; lentils (1 cup cooked) | liver; kidney; heart; brains; sweetbreads; game meats; goose; partridge; anchovies; sardines; mackerel; herring; scallops; mussels |
| Milk and Milk Products | All | | |
| Fats and Oils | All in moderation | | Gravy |
| Soup | vegetable soups ; soups made with vegetable stocks | meat soups and broths | Meat extracts; meat base stocks and yeast extracts such as Oxo; Bovril; Marmite; Vegemite; and yeast taken as a supplement |
| Other | sugar syrup; sweets; gelatin;soft drinks; tea; coffee; cereal beverages (Postum); chocolate; custard; pudding; white sauce; condiments; salt; herbs; olives; pickles; relishes; vinegar; popcorn | | Mince meat |
Foods with Highest Purine Level (mg per 100g)
| Food Serving ( 100g ) | Purines ( mg ) |
| --- | --- |
| Pig's Heart | 367 |
| Beef | 266 |
| Sprat (Smoked) | 207 |
| Tuna | 178 |
| Ox Kidney | 172 |
| Ox Liver | 171 |
| Redfish (Ocean Perch) | 149 |
| Calf (Neck Sweet Bread) | 142 |
| Baker's Yeast | 136 |
| Cured Herring | 133 |
| Ox Heart | 133 |
| Pig's Liver | 132 |
| Trout | 128 |
| Calf's Liver | 119 |
| Sheep's Spleen | 118 |
| Veal | 112 |
| Saithe (Coalfish) | 107 |
| Halibut | 104 |
| Lamb | 100 |
| Haddock | 95 |
| Pork | 95 |
| Mackerel Smoked | 94 |
| Chicken | 91 |
| Anchovy | 88 |
| Pig's Kidney | 86 |
| Pig's Lungs (Lights) | 83 |
| Pig's Spleen | 78 |
| Sheep's Heart | 74 |
| Liver Sausage (Liverwurst) | 73 |
| Herring Roe | 72 |
| Ox Spleen | 71 |
| Cod | 66 |
| Plaice | 51 |
| Luncheon Meat | 33 |
| Mussel | 27 |
| Limburger Cheese | 13 |